The Southwest Breakfast Scramble is perfect for prepping healthy, high-protein breakfasts, all week long
A big thank you to Nellie's Free Range Eggs for sponsoring this recipe, Southwest Breakfast Scramble. All opinions are mine alone.
School's been back in session for just a few weeks, and we're already on the struggle bus. Despite all of our planning and the best of intentions.
We passed right through the optimistic honeymoon phase – where lunches are prepped the night before, mornings run smooth, and projects are completed well in advance, instead of at the last minute.
We lingered in that happy place for about a week before reverting right back to where we ended school in the spring.
The crazy is real.
But.
I have been doing one thing right: meal prep.
This month is the first time I listed out a meal plan for the entire month.
You heard that right. The WHOLE month.
Despite not seeming to be able to stay on top of all the "send in a photo of this," and "wear blue on Tuesday" notes from the teachers, our meal plan is solid.
An important part of our meal planning is prepping breakfasts. We try our best to always have high-protein meals for the kids to help get them through the day.
Of course, in the chaos of weekday mornings it can be a challenge.
This Southwest Breakfast Scramble solves that.
It's perfect for pulling together Sunday, and storing in single serve containers to eat throughout the week.
It's packed with veggies and high-quality protein from the turkey and Nellie's Free Range Eggs. Nellie's eggs are Certified Humane, meaning the hens are free to peck and play outside with no cages in sight. Plus, the small family farmers from Nellie's don't use antibiotics or hormones, making this a super filling meal that the whole family can agree on!
Prepping is simple.
Start by dicing a pound of your favorite potatoes – we like fingerling or red potatoes sliced in quarters.
Pour about a tablespoon of oil into a skillet on medium heat. After a couple of minutes, after the oil begins to sizzle a little, add the potatoes. Stir to cover the potatoes to evenly coat with oil. Toss with a teaspoon of garlic powder and salt and pepper to taste.
Turn the stovetop down to medium low heat and cover with a lid. Cook for 25 minutes, shaking the pan occasionally to ensure the potatoes don't stick to the pan.
While the potatoes are cooking, begin browning a pound of ground turkey or hamburger.
Dice a green bell pepper and onion and cook for just a minute or two before adding 4 ounces of tomato sauce, ¼ cup of water, and two tablespoons of your favorite taco seasoning.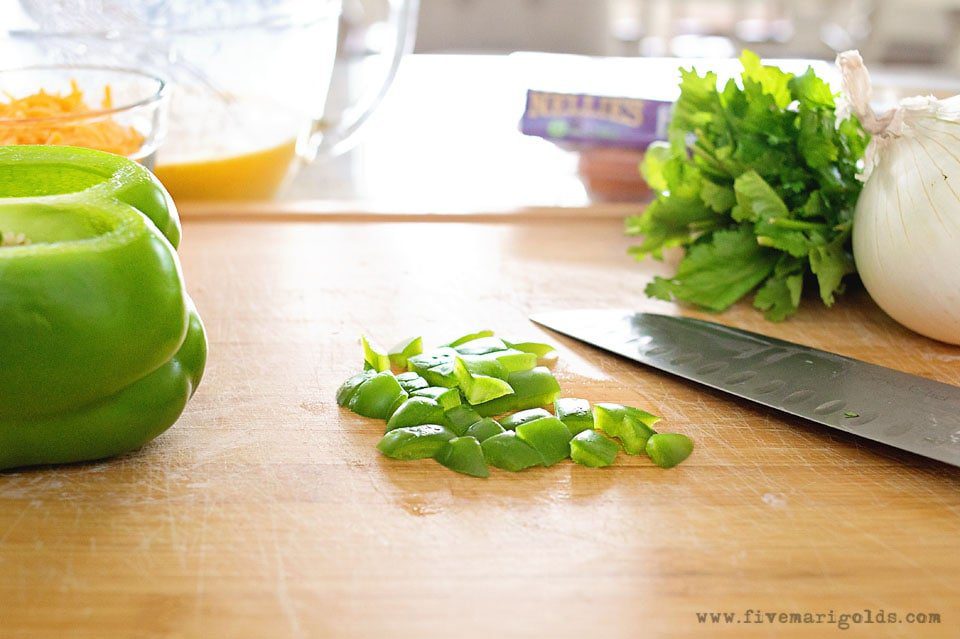 Finally, whisk the yolks of 8 eggs along with ¼ cup milk, ⅛ teaspoon cumin and ⅛ teaspoon paprika, along with salt and pepper to taste.
Stir in ¼ cup shredded cheese before scrambling in a skillet. I just used shredded cheddar, but this recipe is also fantastic with Monterey Jack and Colby cheese blends.
Once cooked, spoon the potatoes, turkey (or hamburger), and the egg mixture evenly divided between storage containers.
This makes five or six filling adult-sized breakfast portions, or around 10 kid-sized portions.
Like breakfast for dinner? We do, too. This makes plenty to serve our family of five.
However, in our house, we appreciate how well this stores and works on-the-go.
Does this Southwest Breakfast Scramble sound like the kind of meal prep your family can use for the busy weekday grind? You can find the complete recipe over at Nellie's Free Range website.