Sew Pajama Pants in just 15 Minutes
If you've followed my blog for any amount of time, you know that I love all things vintage. Lately, I've been especially fond of vintage sheets, afghans and quilts. I'm always brimming with ideas for repurposing these treasures, and I even sell my finds in my small Etsy Shop. Last year I shared an article with genius ways to repurpose vintage sheets, and I fell in love with the idea of sewing pajama pants from vintage sheets.
What could be better? The soft feel of summer sheets paired with gorgeous vintage patterns.
I 've had this pretty flat sheet for nearly a year. I picked it up for a steal – I believe less than a dollar – but part of me hated to cut them up. However, It just wouldn't sell on my Etsy shop. I took it as a sign. It was time to cut.
I realized I could sew a pair of pajama pants for me and both of my girls from the same sheet, and fell in love with the idea of matching mother daughter pj's.
The best part of these pants is the way they look and feel.
It's just icing on the cake that they are SO easy. You can make these pajama pants by sewing just three seams and in less than 15 minutes.
First, fold your fabric over and lay your favorite pair of pajama pants on top. Be sure to place the bottom hem about 1″ above the finished hem of your sheet. You want to take advantage of all of the existing hems on your sheet to make this project extra easy!
You're going to cut about 1″-1.5″ around your finished pajama pants – with another extra inch or two at the waist. Then, fold your sheet again and cut one more time.
Pajama Pants from Vintage Sheets
Turn your cut pieces wrong side out and sew the interior side side of each leg, up until about 0.5″ from the crotch.
Now, turn your legs right side out. You're going to sew the two legs together by sewing seams 1 and 2, as shown in the below photo.
Finally, try the pants on and determine where you'd like the waist to hit. Fold it over, pin, and sew the waist closed, leaving about 1″ left un-sewn. You will fish your elastic through this band and sew the two ends together. Finally, stitch the waistband closed.
That's it! Your pajama pants are done!

The girls and I are obsessed with these. We've already decided we're going to need more pairs. At about $0.33 per pair, I think I can swing that.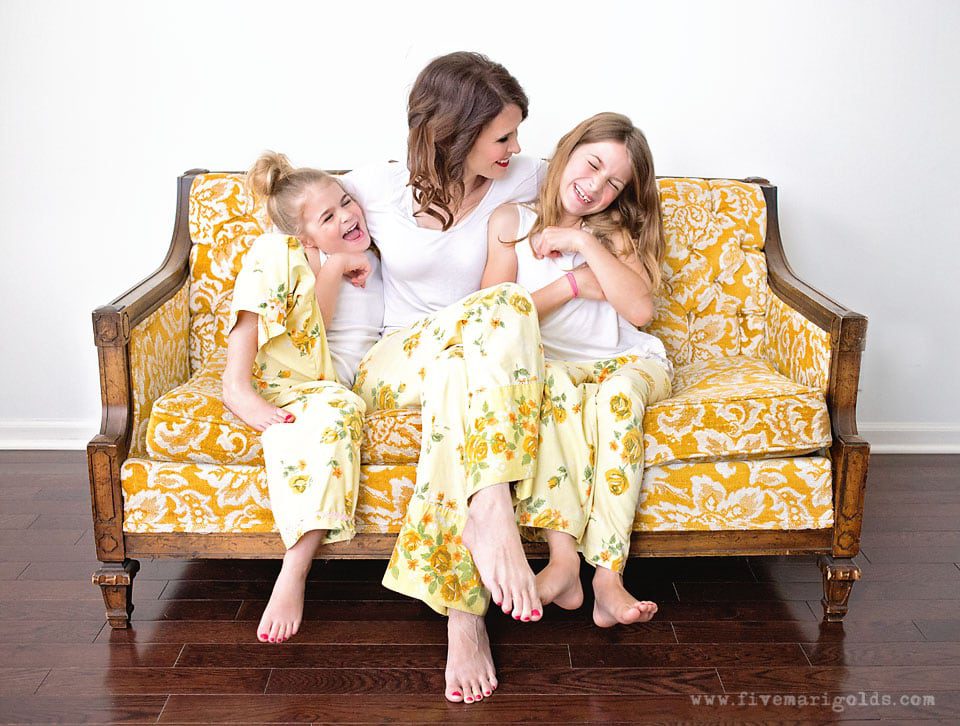 What do you think of our pajama pants from vintage sheets? Would you make these for yourself? I'd love to hear your thoughts in the comments below!
IF YOU ENJOYED THIS ARTICLE, YOU MIGHT ALSO LIKE: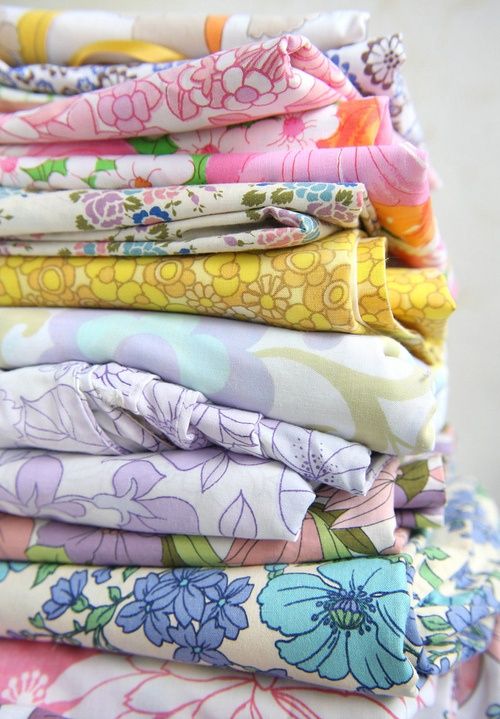 Pin this post for later: