High Impact Gifts that Mothers & Grandmothers Will Love
A big thanks to GiftsForYouNow for sponsoring my Homemade Mother's Day Gifts. All opinions are my own.
Happy May Day! Can you believe in just a two short weeks, it will be Mother's Day?
If you're one of the many people who haven't landed the perfect gift for the women in your life this Mother's Day – don't panic! I've pulled together three thoughtful and inexpensive gift ideas for moms and grandmas, that even the worst procrastinator can pull off at the last minute! Moms can attest: there's nothing better than receiving a truly thoughtful gift that can be sentimental, pretty, AND useful.
We wives and moms usually handle gift coordination for the family, for all occasions, so I wanted to provide  ideas that are simple enough that kids of all ages can make them 100% on their own.
So, armed with just a few inexpensive supplies, we put our ideas to the test.
The kids went to work creating their masterpieces using just crayons and paper…
Fabric pens on simple white tea towels…
And permanent markers, like Sharpies or Bic, too. Truth time: I actually strip this one down when using permanent marker because she can't be trusted not to mark her clothes, too. Can anyone relate?!
We made several of these pieces of art – yes, I had to get in on the action, too!
When we were finished using permanent markers on our towels, we draped them over large kitchen pans and began dripping rubbing alcohol over the drawings. Magic!
A simple design like this: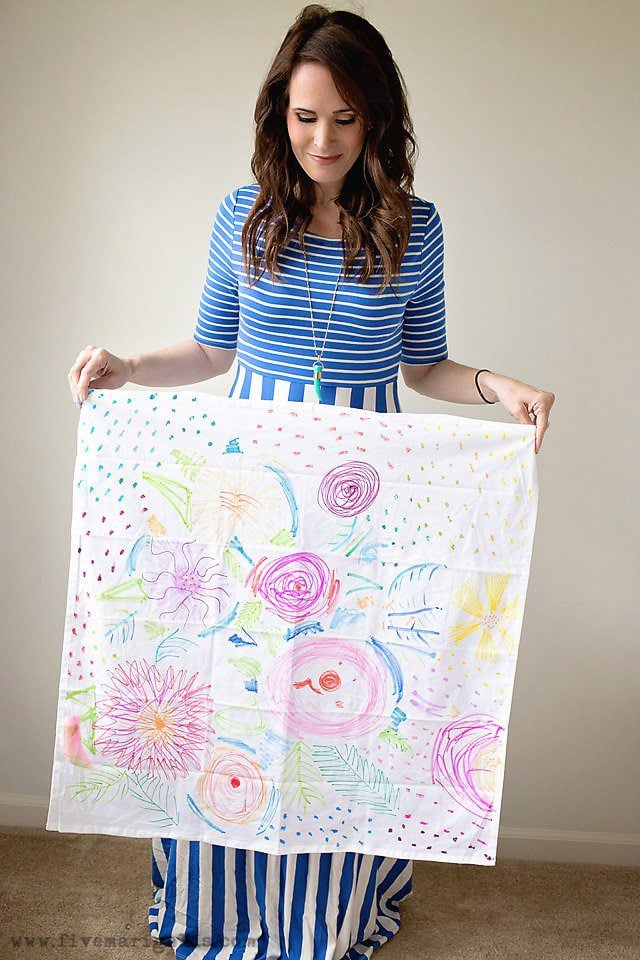 Turned into this! 
How pretty is that?!
Once the alcohol was dry, we ironed them on a hot setting and ran them through a hot dryer for good measure. The tea towels we created with the fabric markers were ready to go, but we ironed and dried them as well, for good measure. (Note: I strongly suggest subsequently washing all of these creations separate in cold water before using them the first time, as there may be initial bleeding.)
Don't be fooled by my pretty floral design – the best thing I learned as part of this activity is that it pays not to over think this project too much. My kids' abstract creations are every bit as pretty as mine! Best of all – they are totally functional.
I was every bit as pleased with the kids' art fabric pen drawings!
The art we made with just crayons and paper turned out to be  my absolute favorite. We just scanned and uploaded the art to GiftsForYouNow, and shortly after this beautiful 8″ x 8″ canvas arrived on our doorstep.
I'm keeping this one for myself, because I envision it as the first of many that will cover a wall in our home…perhaps the playroom, or our art display in the mud room. Can you think of anything more cheerful?
And, the PRIDE in my daughter's eyes when she saw her drawing on canvas, like real artwork, was priceless. She couldn't believe I deemed her art worthy of displaying this way. It turned out to be a gift for both of us, really.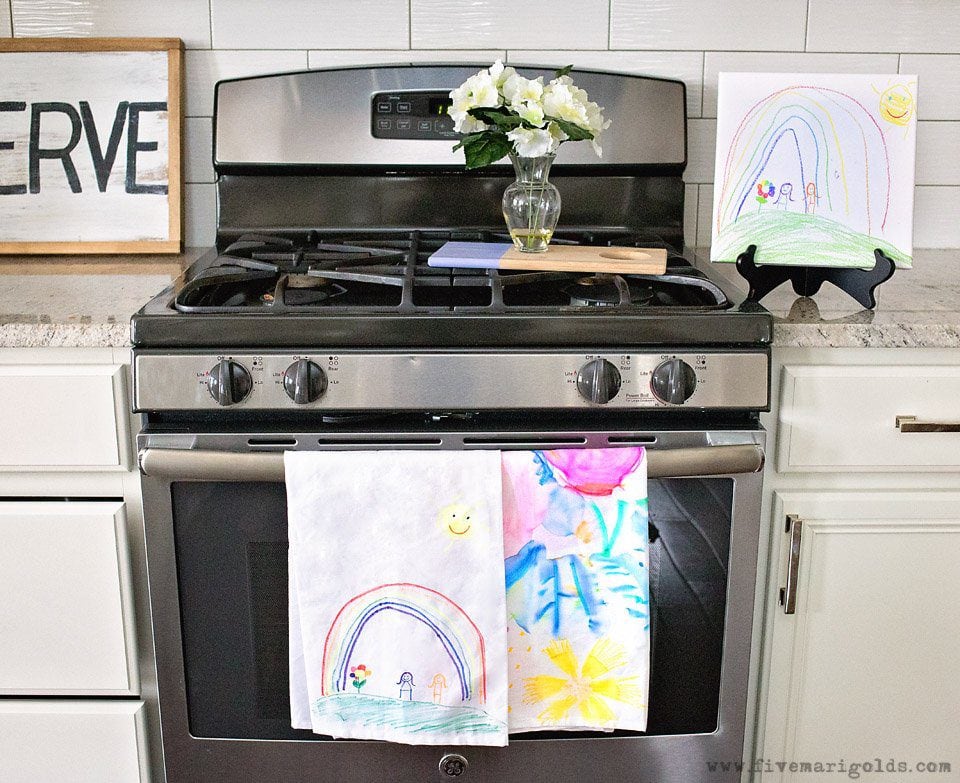 What do you think of my kid-friendly homemade Mother's Day gifts? Would you be happy to receive these homemade gifts? Let me know what you think in the comments below!