Frost dozens of Cookies in just 5 minutes with "Dippable" Royal Icing
I'm feeling like a genius these days.
I was dreading frosting dozens upon dozens of my famous vanilla almond cut-out sugar cookies I make each Christmas.
While the result looks and tastes delicious (and totally worth the effort), It's a long process and I was feeling lazy this year.
Always one to look for the shortcut, I decided to simplify my royal icing recipe a bit to see if I could make a simple, "dippable" icing work. No sifting powdered sugar. No bottles or icing bags.
To my delight, not only was I able to ice a dozen cookies in one minute, but it tastes even better than the other recipe I used to use. Score!
Just prepare the recipe below, adding a tablespoon of water at a time until the consistency of the icing is just a little runnier than white glue – smooth and thick, yet pourable.
Place it in a flat bowl and just dip each cookie, using a knife or rubber spatula to gently clean any sides before placing on parchment or a cooling rack where any excess frosting can drip off.
The result is smooth, full coverage icing in just minutes. No knives, no edging and flooding with pastry bags. Just dip and done.
As I mentioned earlier, I was able to dip a dozen cookies in just a minute! Add food coloring or cacao powder, if you choose, to change the look of these cookies.
Here is an example of cookies made with dippable icing using cacao powder.
And, I can't imagine how much better these might have looked if I'd just dipped them!
. The best part is that this process allows my kids to get more involved in the decorating, and I am able to let go of my control issues.
I found some awesome food coloring pens that I gave the kids to decorate with. I think they did great! (I researched these a lot and found that food coloring pens work great!
I also decided to try my hand at watercolor painting the cookies.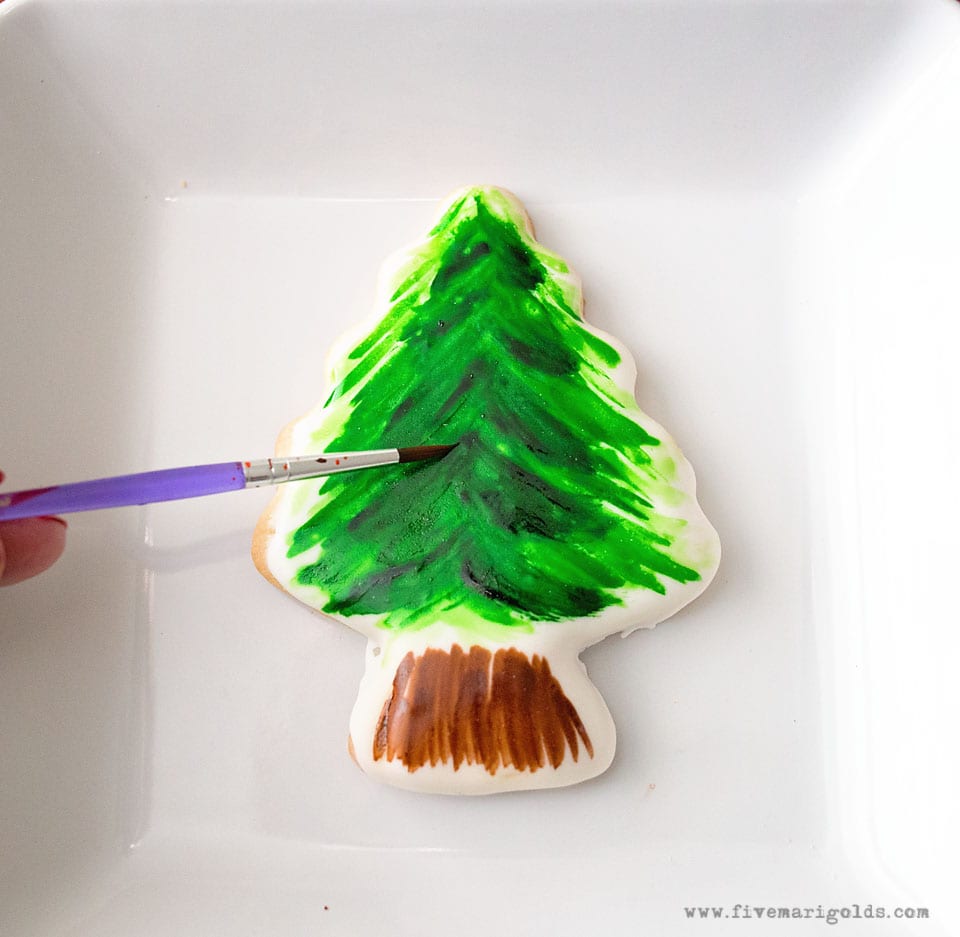 I used gel food coloring and various paint brushes. To get the ombre and watercolor effects, I added water to each color in varying degrees of dilution.
How much fun would that be to paint cookies for a girlfriend night in?
I hope you love my new time-saving, memory mom hack!
Easiest Sugar Cookie Icing Ever - Dippable Royal Icing
FROST DOZENS OF COOKIES IN JUST 5 MINUTES WITH "DIPPABLE" ROYAL ICING
Ingredients
3 cups unsifted powdered sugar
1 tablespoon meringue powder
1-2 T light corn syrup
4 to 5 tablespoons water
1/4-1/4 t lemon juice (optional)
Food coloring (optional)
Instructions
Combine ingredients and beat on high fo 2-3 minutes.
Dip each cookie face down into the bowl of icing, gently scraping the excess frosting with a frosting knife or on the edge of the bowl.
Allow to sit on a cooling rack to allow frosting to drip through.
Let harden at least 2-3 hours before decorating.

Or, if you want to skip icing these amazing cookies, try this simple and pretty marbling technique!