Perfect for an easy and filling breakfast, or to pack in lunch – Easy Sheet Pan Pancakes will make your school morning prep a little sweeter.
A big thank you to Nellie's Free Range Eggs for sponsoring this recipe for Easy Sheet Pan Pancakes. All opinions are mine alone.
As much as I love to cook, there are a few things I'm just lousy at in the kitchen. Generally speaking, any food that requires careful flipping in order to create a perfect golden brown is out: grilled cheese, quesadillas, and of course, pancakes. If you don't like them slightly charred, you don't want me making them. That's why I'm super excited about this recipe that we've been making for quick and easy back-to-school breakfasts – Easy Sheet Pan Pancakes.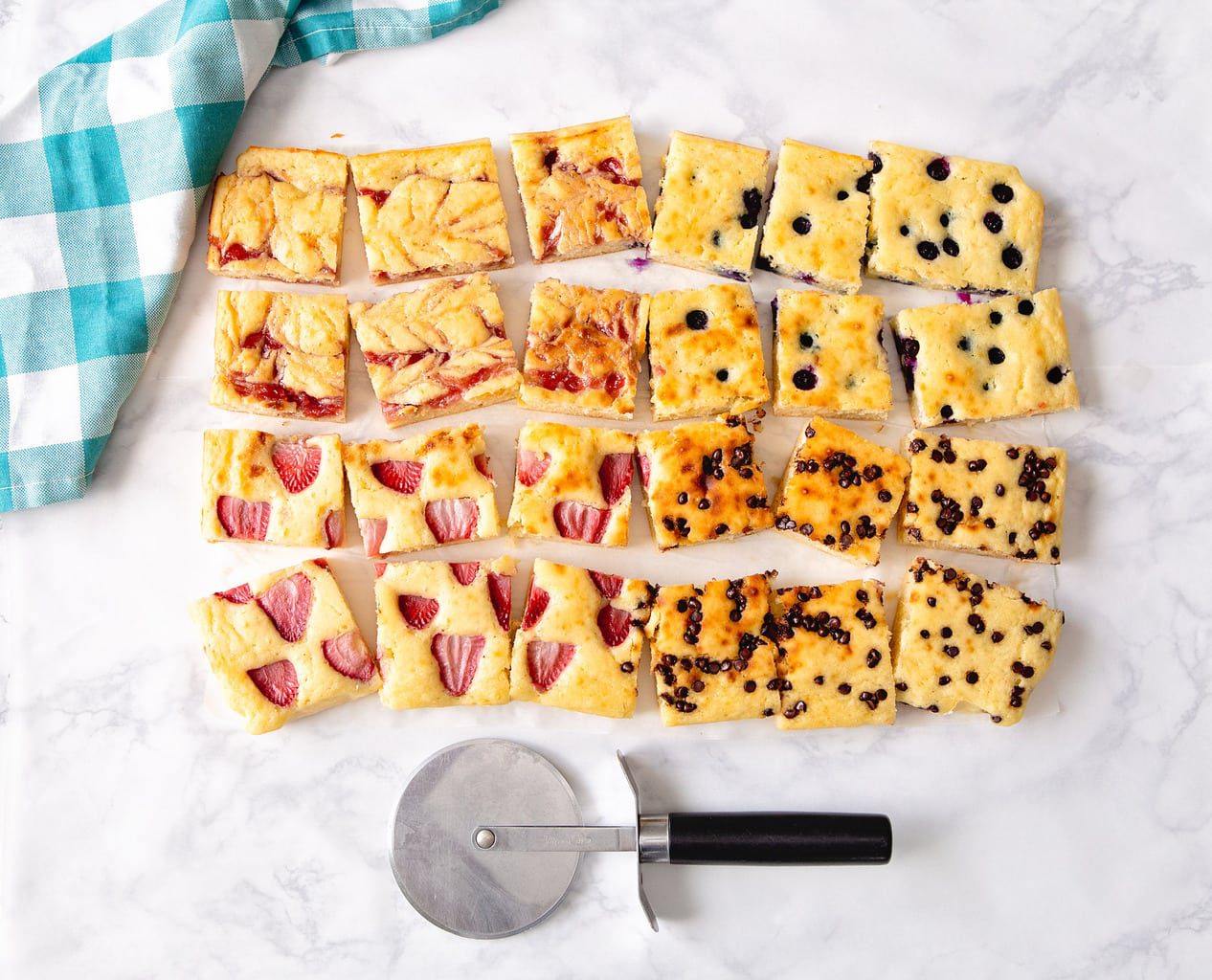 Not only is this recipe easy, but they are nearly impossible to burn. And, they make a lot of pancakes, so it's especially great that these freeze like a dream. (scroll down for my time-saving tips far below!).
To make sheet pan pancakes, just whip up a simple pancake batter using items you already have in your pantry: flour, sugar, baking soda, baking powder and salt.
Then, add buttermilk, butter, a little vanilla extract and eggs.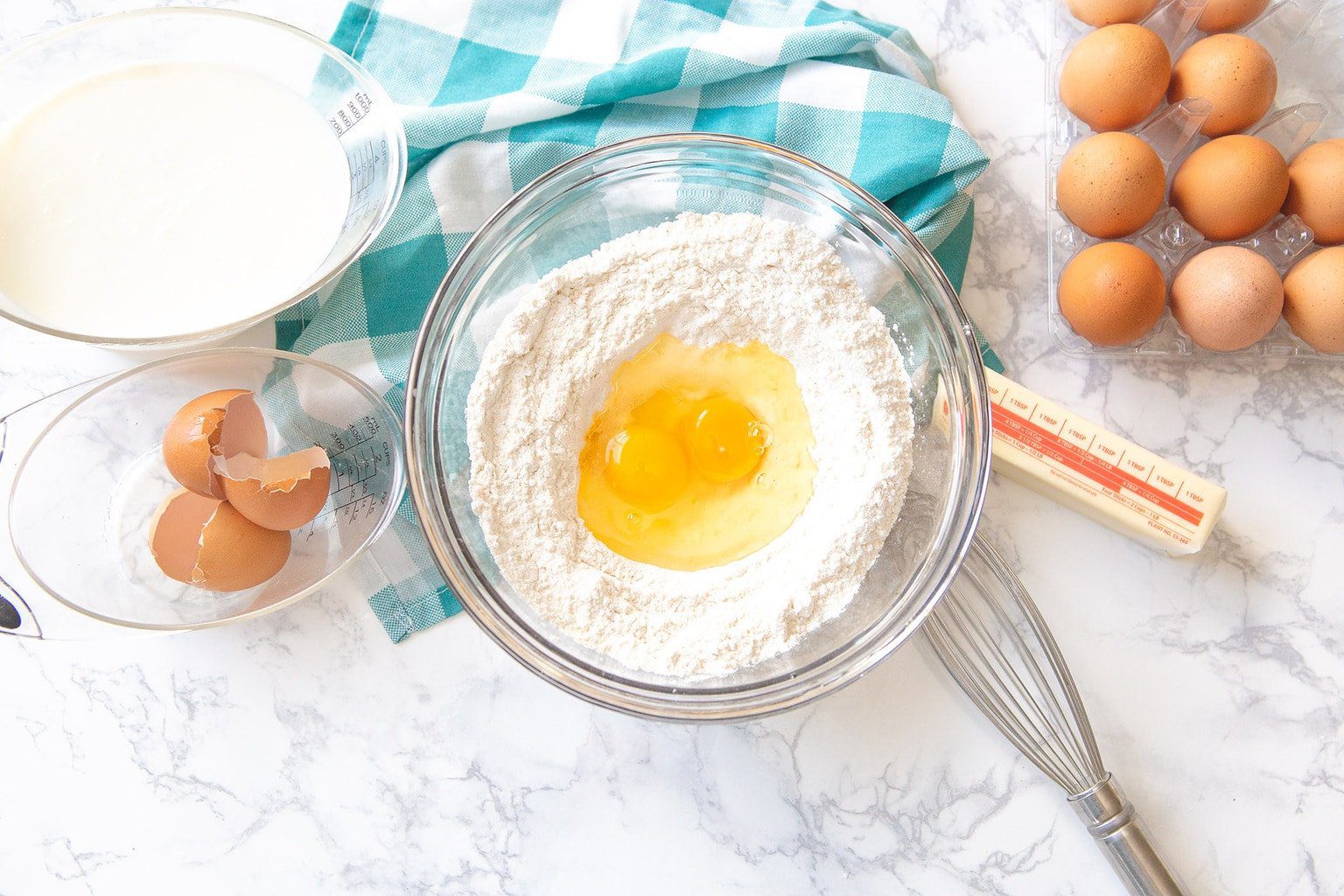 Personally, I choose Nellie's Free Range because their eggs come from healthy free-range hens raised on Certified Humane farms. Their hens are fed nutritious, high-quality feed free of antibiotics and added hormones. A healthy diet for the hens means higher quality and actually more nutritious eggs!
Or, you can always use whatever pancake mix you have in your pantry (another time saving hack far below!). Whisk the batter until only slightly lumpy.
Next, line a large bar pan (mine is 10.5″x14.5″) with parchment paper. Pour the batter into pan evenly before adding your favorite mix-ins lightly on top. I like to make four different flavors per batch; the variety means the entire family can have their favorite flavor and you won't have to pick favorites!
I find it's easiest to visually divide the pan into four quarters and add toppings. For this batch, I added miniature chocolate chips to one section…
Blueberries to the second…
Strawberries to the third…
Last, I added (my personal favorite) raspberry jam swirl to the fourth quarter of my Sheet Pan Pancakes. Just warm the jam slightly and use a spoon to drop it into the batter. Then, using a chopstick or a kabob skewer, swirl the jam evenly throughout. SO good.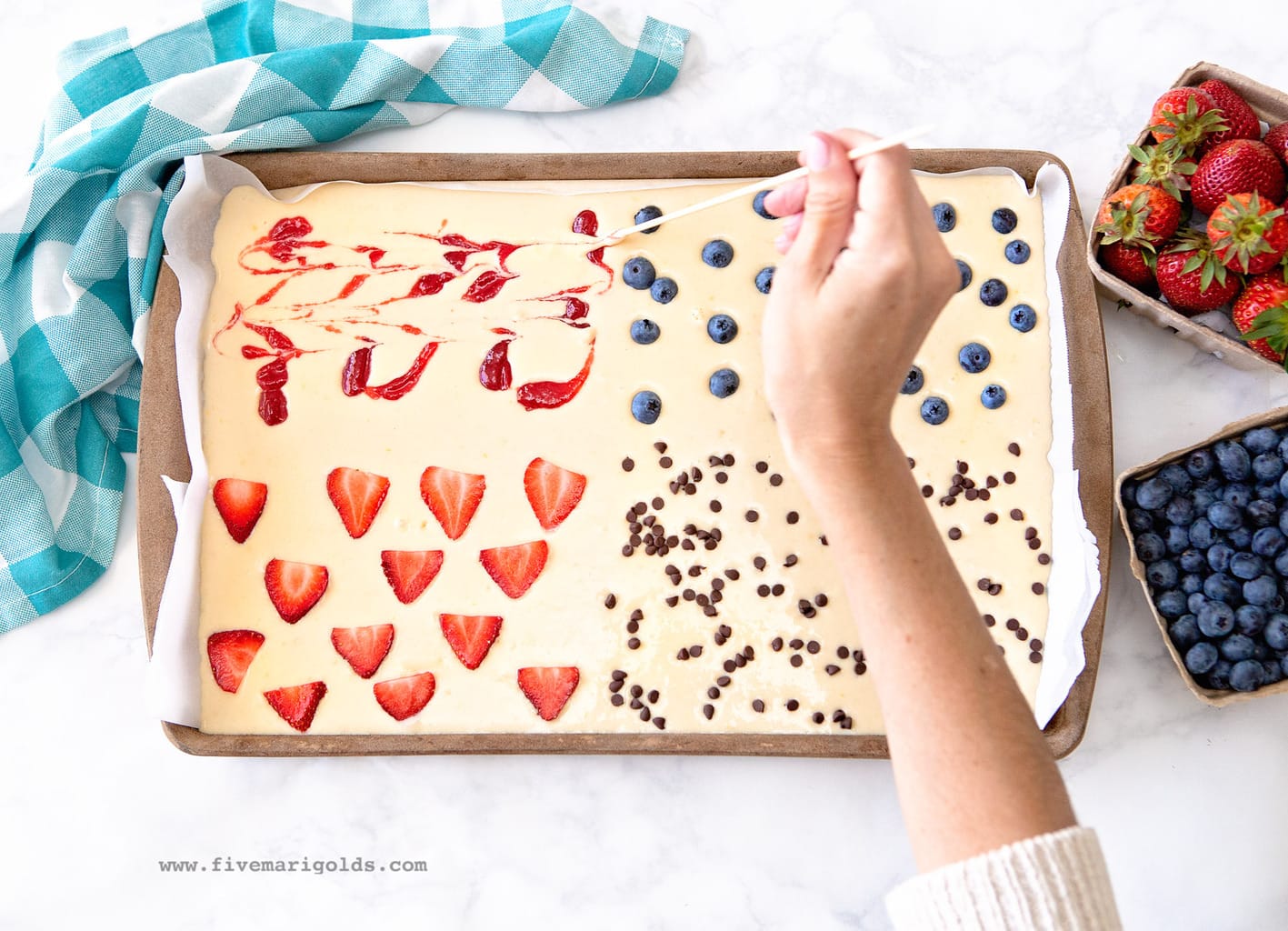 Then, bake at 425º for 20-25 minutes, or until a toothpick comes out clean. When it comes time to serve, use a pizza cutter to quickly slice pancakes into 24-32 servings.
Top with syrup, fruit, or .a dusting of confectioner's sugar, and bon appetite!
Because you're baking this dish in a sheet pan, the final product is more dense than a traditional pancake, which means this is the perfect grab and go breakfast on the way to the bus stop. It's also great for packing in lunchboxes, with our without syrup.
Best yet, there are so many mix-in options you'll be able to keep everyone happy!
Additional Pancake Mix-Ins
Berries
Thinly sliced apples and cinnamon
Sliced bananas with peanut butter swirled
Lemon and poppyseed – just add fresh lemon juice, zest and poppyseeds
Nutella swirl
Pumpkin swirl – combine 2 TBSP. pureed pumpkin with 2 TBSP. softened cream cheese and 1 tbsp confectioner's sugar. drop in by the spoonful and swirl throughout the batter using a chopstick or skewer. Top with cinnamon or nutmeg
Double chocolate – add 2 t. cacao powder and 1/2 C. miniature chocolate chips
Cinnamon Swirl (my kids' favorite!) – reserve 2 T. batter and mix with 2 tbsp. light brown sugar and 1 tsp. cinnamon.
TIME SAVING HACKS
For a shortcut, prepare the pancake batter using 4 C. pancake mix combined with 2 C. milk and 4 eggs.
Freeze leftovers in a resealable bag, using parchment between layers. Microwave for a hot breakfast, or add to a lunchbox to thaw by lunch.
Which flavor is your favorite? Let me know in the comments below!