These beautiful marbled fall leaf sugar cookie cutouts resemble the changing fall leaves – no icing required!
I've recently come across some super cute ideas using colored dough for pasta, breads and cookies and have been wanting to try for myself. The truth is, I'm always looking for the easiest way to frost (or not frost, if I'm being honest) cookies and this seemed like a pretty and no-hassle solution!
What better way to experiment with colored dough than by showing off the colors of the season? My girls and I decided last weekend to break out our leaf cookie cutters and gel food coloring to use with our favorite (aka easiest) vanilla almond sugar cookie recipe – only we chose to add a hint of maple flavoring instead of almond – it just seemed right for our fall theme!
We chose to use red, orange, yellow and green food coloring.
We discovered that the trick to getting the perfect marbled effect is to tear off little bits of the dough to form a bit of a mosaic, and then knead just a few times.
Kneading too much creates a solid brown color which still tastes great, but doesn't have the same visual effect we're going for here! Otherwise, this is pretty fool proof.
You guys. This was so stinking easy. My trusty sugar cookie dough was the absolute perfect recipe for this fall leaf experiment.
Once we made our cutouts, I used a pairing knife to lightly press the veins of the leaves. I refrigerated each pan of cookie cutouts for about 10 minutes before baking and the cutouts and veins held shape perfectly.
We had originally intended to add a clear donut glaze, but in the end we didn't need it.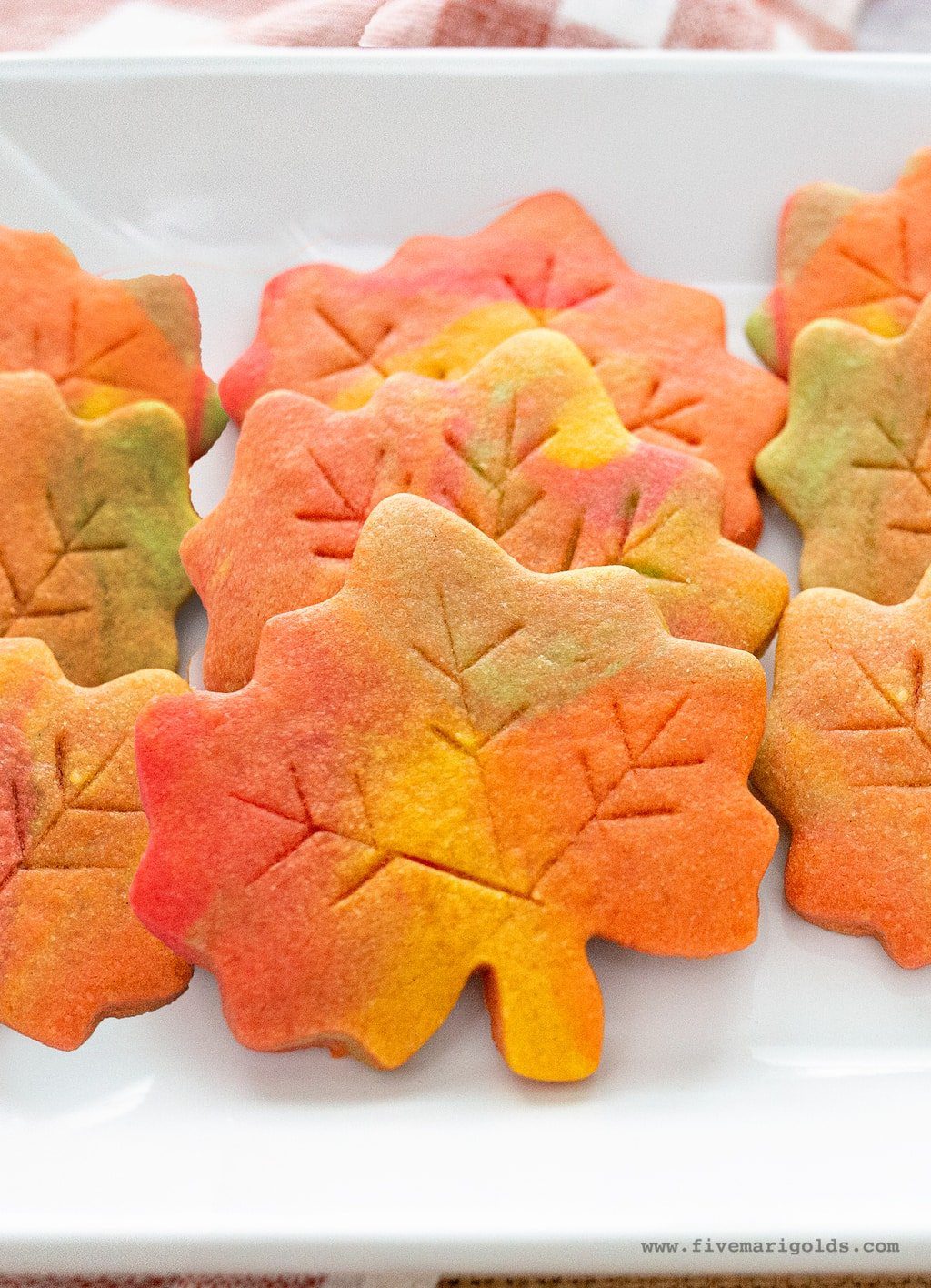 Aren't they beautiful?
If you're interested in giving these marbled fall leaf sugar cookie cutouts a try, here is everything you need to get started:
I'd love to see how yours turn out, so please share them with me! Enjoy!