A DIY Marquee Letter Board is part marquee light, part letter board, 100% Instafabulous. These changeable letter signs are inexpensive and easy to make. Word to your mother.
Well, hello there! Today I'm sharing a tutorial for my latest project: a DIY Marquee Letter Board.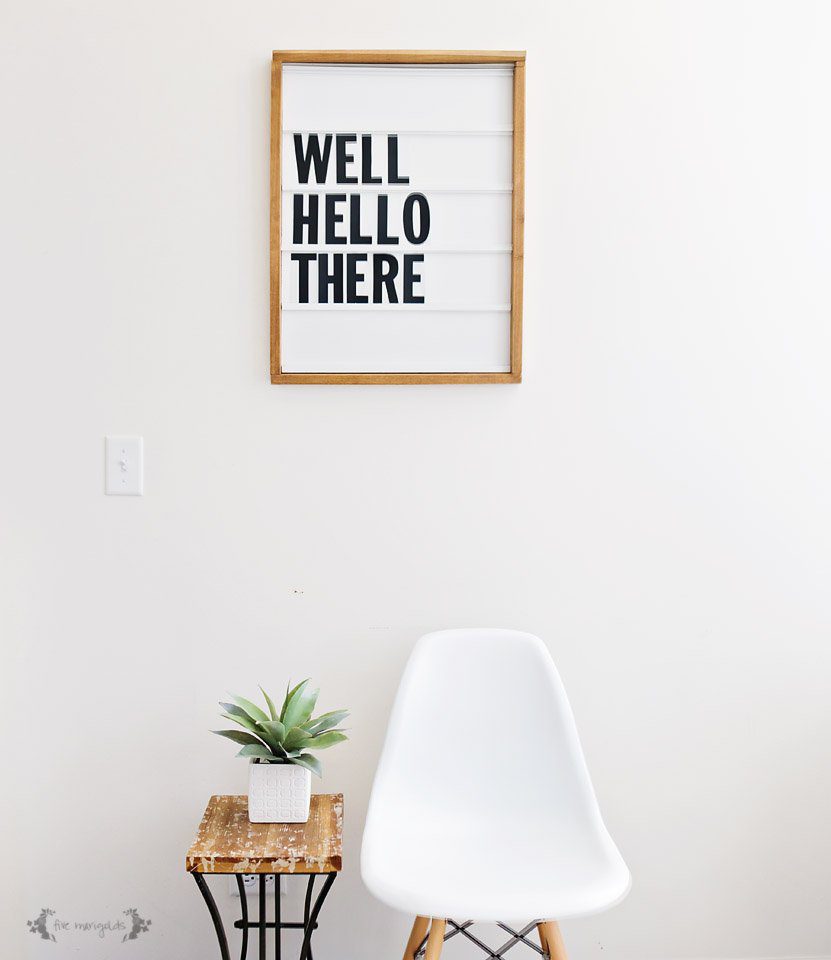 I'd been wanting to take on a fun project, and was initially inspired by the marquee signs that are all over Instagram these days. Totally cute, but just not something I can envision in my home as a permanent fixture. I've also been crushing on all the beautiful felt letter boards out there, but they are out of my price range.
So as usual, I improvised and found a super simple way to make my own – on a budget, of course. The result is a unique and impressive piece of wall art that will surpass the current trend. Let's get started!
Supply list: What you'll need
Particle board, cut to your desired size – I chose board that was already primed white
Two sizes of Balsa Wood strips from the craft store or online here
Wood glue
Inexpensive wood (I used 1×4″) for the frame,  and the wood stain of your choice
Clear, flexible plastic from the craft or office supply store
getting started on your marquee letter board
I started with leftover particle board from Dub's engineer prints project.
Then, to create the ledges for the letters to sit on, I bought some strips of Balsa wood from the craft store. I bought two sizes: 3/8″ wide, and then a much smaller square strip.
I cut them to size to fit the width of the board, then glued them together like this.
Then, I measured and re-measured my particle board, using wood glue to attach the wood ledges to the board, evenly spaced.
We finished it off with a simple DIY wood frame, similar to what I made for the DIY engineer prints in Dub's room, and the DIY Proverbs 31 Canvas frame in Eve's Room.
I cut some clear, flexible crafting sheets to size and affixed 4″ vinyl letters. (I've also heard this works great for the sheets).
The result? If the marquee sign and vintage letter board had a baby, this is what I think it would look like.
This marquee board gets a lot of attention at my house, and you can clearly see I have endless witty sayings to add to it, like "DIY Letter Board.". Okay well…I could use some help on that part.

Every hipster home in America has a felt letter board or a marquee sign, but I'm just gonna say, these wooden changeable letter signs are where it's at.
Unique enough for the hipsters. Simple enough for the minimalists. 
Snarky enough for the type of moms who listen to 90's gangsta rap when they work out. You know…if that type of person even exists.
Word to your mother.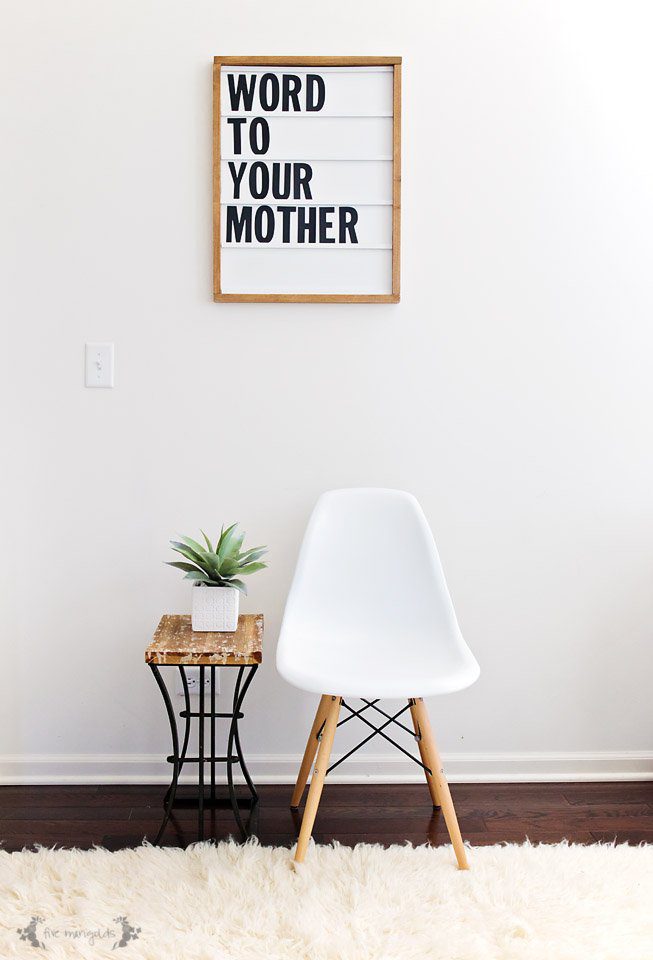 What do you think of my DIY  Letter Board? What would your letter board say?