next level Banana Bread with Chocolate and caramel
This shop, Chocolate Caramel Banana Bread, has been compensated by Collective Bias, Inc. and its advertiser. All opinions are mine alone. #DelightfulMoments #SplashOfDelight #CollectiveBias
Lately I've been trying extra hard to make desserts and breakfasts from scratch. Less processed cookies, treats and cereals = more homemade goodness. Today I'm going to share the amazing  recipe we made over the weekend: Chocolate Caramel Banana Bread.
It's as good as it sounds.
Like so many, I start each day with a cup of joe. I prefer mine iced, even in the dead of winter, with a smidge of sweetener.
I had just discovered an amazing chocolate caramel flavor and it was like having my favorite candy in my coffee.
Which got me thinking…
At least once  per month I use up ripe bananas with our family's favorite banana bread recipe. I've been making it for years and it turns out perfect every time.
I'll make the basic recipe and let the kids have it for breakfast, or I'll toss  a few chocolate chips in the batter for dessert.
Over the weekend, I decided to see if I could turn our favorite bread into a chocolate, caramel, banana bread dream.
I. Succeeded.
To make this chocolate caramel goodness, start with three ripe bananas.
Mash 'em up good.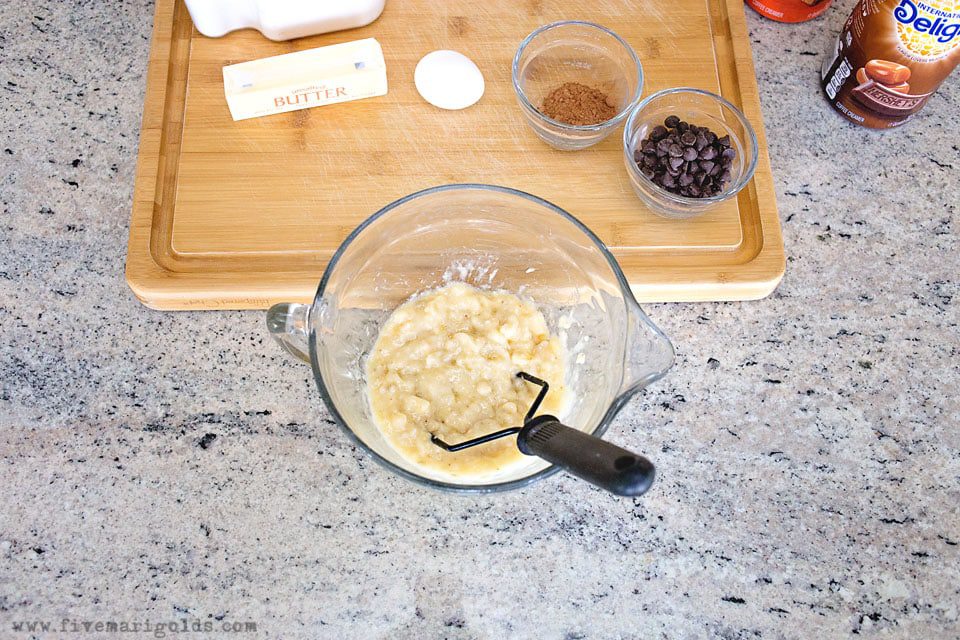 Add an egg, sugar, margarine or butter, and the secret ingredient: International Delight® HERSHEY'S® Chocolate Caramel. This stuff is amazing! 
Even better, you can save on your favorite International Delight® flavors when you grab the $0.50 Ibotta coupon and recipe in your local store display.
Next, add flour, cacao powder, flour and half of your chocolate chips (about 1/4 C.), if desired. Pour your batter into a bread pan or a 9×9 square pan.
Wait impatiently for it to bake.
It smells heavenly!
Allow to cool on a cooling rack for about 20 minutes before slicing. 
The result? Moist, chocolatey, caramel goodness. Mmmmmm….
Disclaimer: I hate the word moist as the next person, but there just isn't any better word to describe it!  What is a good synonym? Help!
If you want you could drizzle a little caramel on each slice before you serve it up. YUM.
I'm glad I got photos right away, because this whole loaf was gone within 24 hours.
I love that you can switch up the flavor every time with one quick ingredient swap. Can you say Chocolate Peanut Butter Banana Bread?! Just use International Delight® REESE'S® Peanut Butter Cup. How about a chocolate coconut version? Swap in some International Delight® Almond JoyTM!
Oh. My. Heavens.
Chocolate Caramel Banana Bread
Ingredients
3 ripe bananas, mashed
3 T. margarine, melted
1/3 C. International Delight® HERSHEY'S® Chocolate Caramel
1 egg
1/4 C. sugar
1 t. baking soda
1-2 T. cacao powder, to taste
2 C. flour
1/4-1/2 C. semi sweet chocolate chips
Optional: caramel sauce
Instructions
Combine bananas, sugar, margarine, creamer and egg.
Add cacao powder, flower and baking soda and mix until thoroughly combine.
Add half of the chocolate chips, if desired.
Pour into greased bread pan or 9x9" baking pan.
Garnish with chocolate chips.
Bake at 350 degrees:
-Bread pan: 55-60 minutes, or until a toothpick comes out clean
-9x9" baking pan: 40-45 minutes, or until a toothpick comes out clean
https://fivemarigolds.com/2018/03/12/chocolate-caramel-banana-bread/
www.fivemarigolds.com
What do you think of my Chocolate Caramel Banana Bread recipe? Please tell me in the comments below!
If you're looking for more family-friendly recipe ideas,  check out my favorite recipes here.
Then, visit International Delight's Pinterest page to find more recipe inspiration for delicious, seasonal treats. You can find these flavors and more at your local Walmart.