For Eve's Princess Birthday Party, I was going for a generic princess feel rather than a Disney princess kind of feel. As part of that, I wanted to create some custom party favors. I didn't really find anything out there I loved for purchase, so I went about creating my own.
You already saw the Candy Button Crown favors I made for the party. Today, I'm sharing the hit of the party – Candy Necklace Cards. I'd seen a super cute concept online, but nothing princess themed. So, I went about creating these myself in PhotoShop, using hair and dress colors that somewhat inspired by Disney princesses, but with look that still felt sweet and unbranded.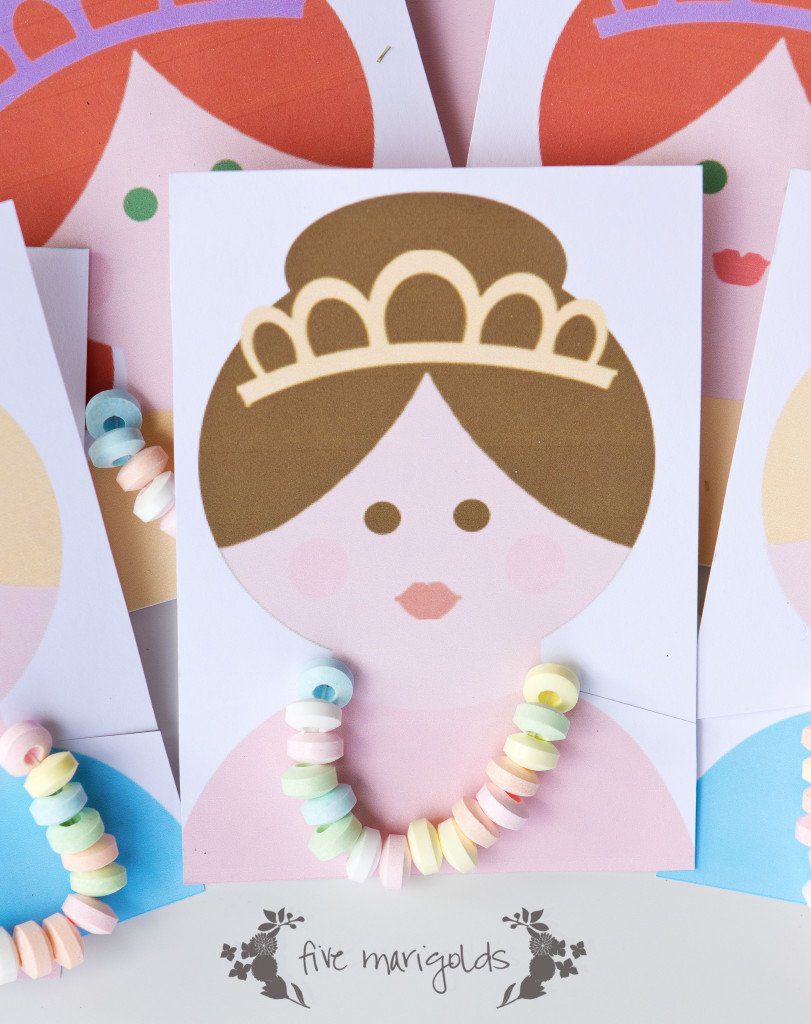 I love how they turned out.  On the front I printed these sweet princesses on heavy cardstock.
On the back, a thank you note for attending Eve's party, written in Jellyka Delicious Cake font.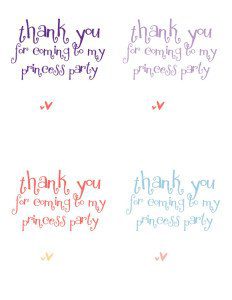 I simply cut a slit on each side, then hooked the candy bracelet on the card.
The best part? This favor is very inexpensive – 10 favors for just $1 when you buy the candy bracelets from the Dollar Tree candy section. Or, buy them in bulk for just pennies more and less hassle. Package them in clear cellophane bags.
I have no shame in sharing that I'm already planning to recycle these babies for Valentine's Day cards, bagged in cellophane . What do you think? Would your little princess love to receive these as a party favor or Valentine?
I'm offering them as a free printable to my subscribers! Download yours here:
Download your Princess Party Candy Necklace printable
In addition to this printable, you can find the Valentine's Day version here, featuring girls AND boys for classroom distribution 🙂
I would love to see these printables in action. Please be sure to send me images of your princess parties!